1

Registrant Type

2

Activity Selector

3

Profile

4

Review

5

Confirmation
Skimmer photo (above) Eve Turek
​2017 Wings Over Water Wildlife Festival

PLEASE READ CAREFULLY

REGISTER NOW (purple button) - If you did NOT attend 2016 Wings Over Water click on this button.
Once you have completed registration and return to this site then you should go to LOG IN.

LOG IN (blue button) - The LOG IN button is for those who registered in 2016 or who have already registered this year- 2017 (and want to add more trips).
WELCOME TO 2017 WINGS OVER WATER WILDLIFE FESTIVAL
Wings Over Water Wildlife Festival is an annual fundraising event held in support of regional National Wildlife Refuges. It's made up of over 90 trips and programs for nature lovers. These trips and programs include birding, paddling, photography, art and natural history.
The main session of Wings Over Water takes place Tuesday October 17th through Sunday the 22rd. WOW Encore session takes place Friday December 8th through Sunday the 10th. WOW Encore is especially for birders who hope to see larger flocks of migratory waterfowl that might not be as prevalent in October. You'll have top birding guides during both sessions of Wings Over Water.
Featuring: 2017 keynote speaker and bird leader, Noah Strycker. Noah is the 2015 World Big Year Birding record holder, 6.042 species (the record has since been eclipsed). Noah is a great guy, wonderful speaker, top birder and multi-talented author, artist and athlete. Keynote reception & dinner Saturday October 21, 2017 6-9 pm. Noah was our 2014 keynote speaker and returns by popular demand!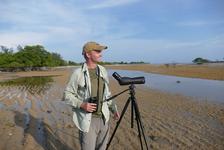 All Wings Over Water trips and program descriptions, dates and times, locations and availablility are on this website. You may register for any available trips. You may register for just the October portion of Wings Over Water. Or, you may register for just WOW Encore. Or you may register for both portions of the festival. We accept VISA, MasterCard, Discover & American Express.
We suggest that you read over all trips, tours & programs before finalizing your registration. Some events fall under more than one category but can only be listed under one. For example, the new, Pamlico Sound Birding Kayak Tour is listed under birding, but it could have been listed under paddling as well. The same can also be said for, Maritime Forest Kayak Birding Tour.
During WOW Encore we will hold our 2nd annual Birder's Social on Saturday, December 9th 6:00-8:00 pm. Birder's Social is held in the auditorium at National Wildlife Refuges Visitor Center, Roanoke Island. It is an opportunity to talk about all things birds - bird sightings, bird species and birds you wish you had seen. Light food options and beverages will be provided. You need to register for this event. Our 2016 social was well-received. Don't miss the 2017 event!
Questions/Help 252-216-9464 wow@coastalwildliferefuge.com
Already have an account?
Login
2017 Wings Over Water